Search results for: "Usa"
With The 2019 MOD ICON AWARD
Responsible Author: Ruby BIRD & Yasmina BEDDOU (Journalists/Directors) | PARIS - LOS ANGELES, 08/19/2019, 07:22 Time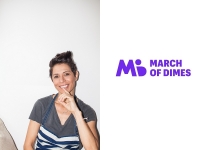 USPA NEWS -
March of Dimes will present world-renowned chef Dominique Crenn with the 2019 MOD ICON Award for her culinary excellence and her relentless push for innovation, sustainability and equality at the Signature Chefs Auction, L.A.'s premier charity tasting event. The philanthropic evening will take place on Thursday, October 17, 2019 at the SLS Hotel in Beverly Hills. Culinary celebrities Brooke Williamson, Timothy Hollingsworth, Aarti Sequeira and Nancy Silverton, the 2018 March of Dimes ICON Award honoree, are joining forces with more than 12 local master chefs to raise critical funds to benefit the March of Dimes' mission to lead the fight for the health of all moms and babies. Tony Hale, Emmy-award winning actor who plays "Forky" in Toy Story 4, will host the evening.
TRUCE IN LYBIA FOR AID AL ADHA
Responsible Author: Jedi Foster P/O Rahma Sophia Rachdi | Paris, Washington DC, 08/17/2019, 00:59 Time
USPA NEWS -
The governments of France, Italy, the United Arab Emirates, the United Kingdom and the United States of America welcome the announcement of a truce in Libya on the occasion of Eid el-Adha in response to the Special Representative of the UN Secretary General with the support of the Security Council (UNSC press statement on Libya of 11 August), and invite all parties to effectively cease hostilities across Libya. We stand ready to assist the UN Mission in monitoring the observance of the truce and address any attempt to break it.  As proposed by the SRSG and reaffirmed today by the Security Council,  this truce should be accompanied by confidence-building measures between the parties that can pave the way for a sustainable cease-fire and a return to a constructive, inclusive dialogue. 
| | |
| --- | --- |
| | RAHMA-SOPHIA RACHDI |
| | Daren Frankish |
| | Ruby BIRD |
| | Yasmina BEDDOU |
| | Roberto Magni |