Search results for: "Breathing"
AND HEALTH MONITORING IN ROUEN
Responsible Author: Jedi Foster P/O Rahma Sophia Rachdi | Paris, Washington DC, Rouen , 10/10/2019, 00:47 Time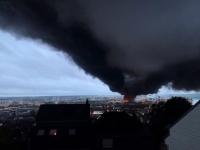 USPA NEWS -
After hearing the prefect of Seine-Maritime before the community council of the metropolis of Rouen, closed to the public, ecologists remain mobilized to obtain transparency and justice for residents of Rouen and surroundings. The Prime Minister, visiting last Monday evening, once again promised "absolute transparency" and assured that the odors, as "embarrassing" as they are, were not "harmful", on the basis of the analyzes carried out . Firefighters and policemen on sick leave after their intervention, population suffering from disorders (headaches, nausea, etc.), farmers banned from consuming or selling their production are all realities that contradict the paternalistic discourse of the prefecture and the government.While it took several days for the list of products stored in the plant to be finally published, fears remain and the population, victim twice in 6 years of leaks and fires of Lubrizol, is entitled to know the truth .
AND THE ENVIRONEMENT
Responsible Author: Jedi Foster P/O Rahma Sophia Rachdi | Paris, Rouen, Washington DC, 10/06/2019, 00:03 Time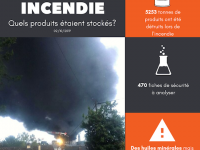 USPA NEWS -
Few days after, the catastrophic fire that occurred in the night of September 25 to 26, in the plant Lubrizol classified SEVESO, in Rouen, and generated spill of soot on a very large area, ecological party generations Futures is flying a complaint against X, for endangering others and the environment. The cloud, carried by the thick black smoke, is currently affectsing no less than 112 municipalities of Seine-Maritime, 40 of the Oise, 39 of the Somme, 14 in the Aisne and 5 communes in the North and Pas-de-Calais.The CEO of Lubrizol, a US factory, visiting Rouen ensures that "the fire will have no impact on the population." Knowing that 9500 tons of products were burned in the neighboring Lubrizol area, in the city of Rouen. and surroundings ... Two hundred and twenty four people, including eight hospitalized , have gone to the emergency room for nausea and vomiting since the oppression close to Lubrizol has been breathing in asbestos and other hydrocarbons since the factory's fire. Generations Futures welcomes the publication of the complete list of products that burned on the Lubrizol site on September 26th. We had asked for this transparency from the beginning of the disaster.
| | |
| --- | --- |
| | Daren Frankish |
| | RAHMA-SOPHIA RACHDI |
| | Ruby BIRD |
| | Yasmina BEDDOU |
| | Ricardo Dominguez |